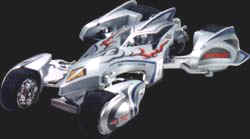 The current Racer Mini 4WD was introduced after the evolution of the Mini 4WD series developed by Tamiya in 1982. Two series of Mini 4WD have been launched in the US market in 1997: a racing oriented Super Mini 4WD series, and a Fully Cowled Mini 4WD series.
A cement-free snap kit, Tamiya Mini 4wds are basically "plastic model kits". Many upgrade parts are available for performance improvement. For example, using optional ball bearings helps in minimizing friction loss and utilizes motor power more efficiently. Selecting the right upgrade parts, you can enhance the performance of your carís stability in curves and acceleration.
Another enjoyment in "tuning-up" besides enhancing performance is that you can create your own machine by customizing it. You can get creative while tuning up your car. Try hollowing out your car to make it lighter or painting it with vivid colors.
The excitement you get with Mini 4WD is as great as the one you get with Radio Controlled Car racing. The Mini 4WD gives you the excitement of racing as if you were a car designer, engineer, and racing driver.
Mini 4WD snap kits are reasonably priced and can be considered a learning experience for many kids. They are easy to assemble and objects of pride and accomplishment for children and their parents. Through assembling their own cars and racing them, children will be able to gain a sense of competitiveness and creativity. Fun and learning can be had at the same time!









Send your suggestions or comments to
g0han@yahoo.com
Copyright © 2000 TAMIYA BUTUAN. Maintained by SON_GOHAN